<![if !supportEmptyParas]> <![endif]>
Today, the 2 italians convinced me in seeing Sefrou, a village located in the south of Fes. We take a Grand Taxi from place de la résistance at the beginning of la Ville Nouvelle when you come from Fes El Jedid. The journey costs only 8 DH and in 20 minutes you are in a little village recommended by Lonely Planet for the calm, the market on Thursday and the falls near the village. That's good because we are on Thursday…
<![if !supportEmptyParas]> <![endif]>
<![if !vml]>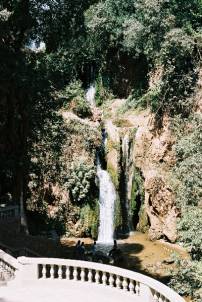 <![endif]>
<![if !supportEmptyParas]> <![endif]>
Apart from two other travelers, it seems that we are the only foreigners there. We have a great time visiting the Medina, the Mellah and the local market. I take advantage of the situation to ask a policeman if he knows someone here who can fix my little bag because I noticed this morning that a f…. guy used a kind of Stanley knife to cut my bag!!! Hopefully it was only a big pocket where I put pens, paper but I was very angry this morning. The policeman was really a super guy and we went to a shop where in 10 seconds the cut was fixed and all that for a big smile and a Alan Wa Salan (welcome!). It is really nice to meet nice and friendly people. Shukraan!! It will be the only incident during the 3 weeks in Morocco.
<![if !supportEmptyParas]> <![endif]>
We resume our visit towards the local market (both inside and outside). Farmers are here to sell their productions of tea, mint, cocks, turkeys, and rabbits… There is also a Moroccan doing some magic tricks with a rope. He wants us to participate but we decline.
<![if !supportEmptyParas]> <![endif]>
Then we walk to the little falls, the attraction of the village just one kilometer from the bus station (in fact a football playground). The indications in the Lonely Planet are not very clear so we ask advice from policemen. They are each time pleased to help us to find our way. It is really a common thing during all this trip, when I didn't know where I was or where was a monument, I just ask to any policeman in the street and each time he was pleased to answer my question and to put me in the right direction.
<![if !supportEmptyParas]> <![endif]>
Many Moroccans are here at the falls enjoying the water under such a sun. It is a nice place to relax, far from the agitation of Fes. Finally we decide to go back to fes by Grand Taxi just before 2pm.
<![if !supportEmptyParas]> <![endif]>
<![if !vml]>
<![endif]>
Bab Bou Jeloud
<![if !supportEmptyParas]> <![endif]>
Back in Fes, we go to my little restaurant near the hotel just to have something and I suggest them to eat one of the vegetarian sandwich they can prepare. So we just seat down at the rear of the restaurant eating our sandwich full of eggplants and potatoes while talking to locals or just listening to the television.
<![if !supportEmptyParas]> <![endif]>
<![if !vml]>
<![endif]>
<![if !supportEmptyParas]> <![endif]>
As I left my bag in their room this morning, I collect it now as I decide to go to the bus station to leave Fes for Rissani tonight. Emanuele and Manuela are not sure about staying another night here or simply go straightaway to rissani and Merzouga like I will do. We exchange some business card just to keep in touch and have a look to each other pictures and why not I will phone them or leave a SMS if we are in Marrakech at the same time in a few days. We are sure that we will see each other again on September 29, the day we are all leaving Morocco but from now then… Inch'Allah !!
<![if !supportEmptyParas]> <![endif]>
I just take a petit taxi (little red taxi) to the bus station near Bab El Mahrouk. After scrutinizing the departures I decide to book a seat on a CTM bus leaving at 8:30pm for Rissani. There is a small difference in the price between CTM and other companies but my seller is sure that I will have a great bus. We will see!!! I have to pay him 5 DH to leave my bag in his office but I could have gone to the baggage room and pay only 3 DH (per day).
<![if !supportEmptyParas]> <![endif]>
I will take the opportunity of this late departure to spend the rest of the afternoon wandering in the souks but I will carefully keep an eye on my bag to avoid another problem. In the medina, I meet a group of Dutch and I decide to follow their visit of Fes. I start talking with the Moroccan guy at the rear of the group and for him there is absolutely no problem that I follow their group, maybe that's because he can speak to someone… The visit is nice and and I learn a little more about Fes at this occasion. At the end of the visit, we enter a carpet store and that is the place where many in the group will buy souvenir from Morocco. I take the opportunity to speak a little more with the guide, and this man was really nice to answer many questions I had during the 2 days I spent there. That was definitely a good idea to follow a group. I thank the guide very much for his explanations and I leave them there. I just walk to a square near Bab Bou Jeloud to see the agitation, there is a kind of open market where many merchants sell a lot of different articles.
<![if !supportEmptyParas]> <![endif]>
<![if !vml]>
<![endif]>
<![if !supportEmptyParas]> <![endif]>
When the night falls, I walk to the bus station to have dinner and to wait until the departure. I meet Jack, an English guy who is working in Netherlands and we will have long discussions for the next hours and especially in Zeida where the bus stops for the dinner stop. It seems that all the buses going south and east stop there in order to satisfy the passengers. It is only a big street full of buses and shops or restaurants. You can buy your food from the butcher and 10m from the stall a guy will grill the meat for you for a few Dirhams. Delicious!!!
<![if !supportEmptyParas]> <![endif]>
As soon as we get on the bus, I fall asleep.
<![if !supportEmptyParas]> <![endif]>
Main expenses of the day :
Grand Taxi for/from Sefrou: 16 DH (roundtrip)
CTM bus ticket for Rissani: 130 DH
Extra cost for the bag: 14 DH (1 DH/kg)
Drinks (water, soft drinks, tea…) + evening meal : 30 DH
<![if !supportEmptyParas]> <![endif]>
<![if !supportEmptyParas]> <![endif]>