<![if !supportEmptyParas]> <![endif]>
Today I decide to stay another night in Meknes and to go and visit Volubilis and Moulay Idriss just outside Meknes.
<![if !supportEmptyParas]> <![endif]>
<![if !vml]>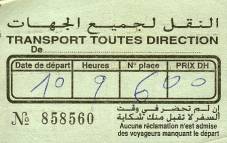 <![endif]>
Bus ticket for Moulay Idriss
<![if !supportEmptyParas]> <![endif]>
So I just go to the bus station near Bab El Khemis where many buses leave the town and some of them reach Moulay Idriss every hour. After a quick 1 hour journey, the bus stops at a crossroad where the other passengers tell me to get off the bus and continue straight forward to reach the Roman site. The bus will just turn right and climb the road leading to Moulay Idriss at 5 km from this crossroad. I will need to walk as there are few cars at this moment. I will do most of the walk with a young Moroccan who will ask as many questions as he can during our encounter. You can see the Roman site from the main road and then you just have to follow the path to the entrance.
<![if !supportEmptyParas]> <![endif]>
In this early morning, we are only a dozen of tourists so it is a privilege to visit such a site in these conditions (it will change around noon when buses will bring a lot of tourists there). The site is really huge and you can spend a lot of time just wandering through the alley but you need to have a guidebook as the main parts are poorly described. The map in any major guidebook enables me to really appreciate all the remains I can see there, mainly pieces of architecture (triumph arch at one extremity of the Decumanus Maximus, mosaics inside former houses or palaces). There is also a capitol and a basilica near the forum. In a word, I will spend nearly 3 hours on the site to admire all the riches from the past in front of me.
<![if !vml]>
<![endif]>    <![if !vml]>
<![endif]>   <![if !vml]>
<![endif]>
<![if !supportEmptyParas]> <![endif]>
After visiting Volubilis I just walk back to the crossroad where I spend some times speaking with 2 policemen on duty. I just stay there while they are working, in other words, just stopping cars that seem too old or in bad condition. It is really nice to speak with them. Then I just climb the last 5 kilometers to visit the holiest city in Morocco, Moulay Idriss. The city is just up on a hill and has been forbidden to non-Muslims until a few years. There is the unique cylindrical minaret of Morocco but the mausoleum is still strictly forbidden to non-Muslims. It is really strange that we are not allowed to enter the area, and it is unique in Middle East. As the temperature is getting higher I just buy 2 bottles of water before going back to the crossroad in order to wait for the bus. Shadow is pretty rare here!!
<![if !supportEmptyParas]> <![endif]>
<![if !vml]>
<![endif]>
<![if !supportEmptyParas]> <![endif]>
While waiting for the bus, I meet Manuel et Manuella(2 Italians) who are also here in Morocco for 3 weeks, we all arrive in Casablanca on Saturday and we will leave by the end of the month…. We will wait for the bus together while talking about our first experiences in the country. We will meet often in the next weeks.
<![if !supportEmptyParas]> <![endif]>
Back in Meknes, I visit the Medersa (former Koranic school built in the XIVth century) and I will stay there a long time in the shade of the courtyard. The medersa is beautiful but from the rooftop you don't have a great view on the Medina or the city. Some of us are just sitting here on the floor drawing, reading or writing.
<![if !supportEmptyParas]> <![endif]>
When I leave the Medersa, I just get lost in the souks but it is only the beginning of another exciting moment and finally I will know again where I am!!!
<![if !supportEmptyParas]> <![endif]>
I really want to visit once more the Moulay Ismael Mausoleum but it is at that time full of tourist groups so I give up. It is now time to discover a street where all the wool dealers are brought together, a lot of animation there this afternoon. I resume my plan of getting lost but normally if I am not wrong I would be able to go back to Bab El Khemis. And that's true I recognize the district, I also see an internet café where I will be able to check my e-mail. Everyone starts laughing when they see me in front of the only computer running Windows in Arabic, not very easy to use Internet in these conditions!! The boss tells me just to pick another PC…
<![if !supportEmptyParas]> <![endif]>
The night falls down very quickly to end this tough day with a lot of walking. I just go back to Hotel de Paris to leave my little bag and I go out to find a good place to eat something, I ask the watchman his best address and so I will check it.
<![if !supportEmptyParas]> <![endif]>
Before going where he told it was fine, I just want to try an address in my French guidebook but I quickly give up as I see nearly no one inside the restaurant. So I just find the address he told me about and a lot crowds the place. The waiters are very happy to see a foreigner and they give me all the time I want to choose what I will eat. They offer some potatoes just to taste but there are so many things to taste and I have to make a choice. So I just have a look to what other people eat and I will order the same sandwich and a big cup of the local soup, Harira. I just find a place in the room and I start my "menu" while talking to Moroccans. It will be one of the best memories I will have about this trip. Here you pay at the end of your dinner and the prices are so soft (less than 10 DH). Everyone is smiling to me and that is a great moment …
<![if !supportEmptyParas]> <![endif]>
Back in the hotel, it is now 9pm and it is time for a Hammam!!! The one that is supposed to be just next to the hotel is closed for maintenance so the watchman will bring me to another one lost in the middle of nowhere in the medina but what an experience there. The decoration is unreal, the rooms are so huge, it seems that I am in a cathedral as the ceilings are so high. This Hammam can also be a Sauna as the temperature is so high. I decide to pay for a massage (30 DH for the entrance and the massage). The ritual is always the same, you start with many seals of hot water brought by an employee (normally you have to do it yourself but I am really lost in this universe). The other men in the Hammam are all watching me, the European among them. At the end of this phase, you just lay down the ground and relax and then you start washing yourself. The best moment is the appearance of the masseur who starts his torture. At the beginning the soap enables the friction glove to slide over the skin but after he starts stretching each part of my body and I am really convinced that he wants to keep a bone or a complete leg of myself!!!! Everybody around us is laughing but I am not, I am happy when the exercise is over… After this rude sequence, I just go to the second room, less hot to rinse myself and after the last room where you use in alternance hot and cold water. Finally I stayed there more than one hour and you are terribly relaxed after this massage.
<![if !supportEmptyParas]> <![endif]>
Now it is around 11pm and the city starts falling asleep, the shops close one after another.
<![if !supportEmptyParas]> <![endif]>
Main expenses of the day :
Hotel de Paris: 30 DH
Bus for/from Moulay Idriss: 12 DH (roundtrip)
Medersa entrance: 10 DH
Hammam + massage: 30 DH
Drinks (water, soft drinks, tea…) + evening meal: 40 DH
<![if !supportEmptyParas]> <![endif]>
<![if !supportEmptyParas]> <![endif]>